Stories from home: grandparent storytelling project
Stories from Home is a collaboration between the QMUL Language Acquisition Lab, Mile End Community Project, Human Stories Films and Blooming Parenting. We are working with London communities to produce a library of short illustrated films based on stories told by grandparents to their grandchildren. The aim of the project is to reconnect and increase cultural awareness across generations, as well as promote heritage language use within London communities. The films preserve and revive historical events and folk tales that are a key part of heritage, identity, and cultural history

You can find out more about the project and watch our films here.
Recent activity
05.01.22: The Stories from Home team appeared on the Women Today show on TV One
12.12.21: To mark the 50th anniversary of the Independence of Bangladesh, Stories from Home screened their films at the Rich Mix cinema, as part of their Bangladesh 50 programme.
26.11.21: Stories from Home appeared in the WriteOn magazine, as part of their Friday Features. You can read the article here.
20.11.21: As part of the Being Human Festival 2021, Stories from Home ran a screening and discussion event at the Genesis Cinema titled: Kiccha: Intergenerational Storytelling in East London's Bangladeshi community.
30.06.21: Stories from Home won the Interact Award at the QMUL Engagement and Impact Awards 2021! This award recognises the partnerships, collaborations and community connections that are essential to public engagement. Watch the shortlist video here. 
14.05.21: Stories from Home appeared in QMUL's Centre for Public Engagement blog: Preserving a generation of stories from home. You can read the post here.
QMUL Centre for Childhood Cultures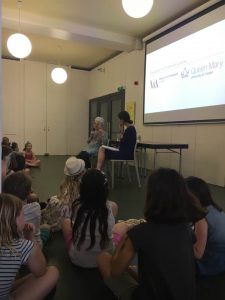 Formed in 2016 and based at Queen Mary University of London, the Centre for Childhood Cultures fosters ground-breaking research on children's everyday lives and experiences, with a special focus on creativity, forms of literacy, and the links between different aspects of childhood culture
You can find out more about the Centre of Childhood Cultures here.